Interview with Kru Nogr (Khun Rossukhon). Proud owner of a beautiful villa equipped with a black Cibes Voyager Aurora home lift, designed to perfectly blend with the interior design.
Warm welcome Kru Nogor's house featuring Cibes' Voyager Aurora model with Nova Clouds pattern matching the floor with taste. Let's follow the interview on why Kru Ngor chose Cibes Lift.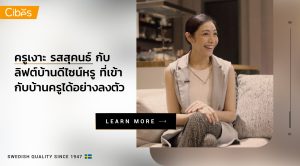 Why did you decide to install a home lift?
There are 2 main reasons on why I decided to install a home lift. 
First, my mother is over 80 and living on the 3rd floor. Too tiring so I installed it for her. Oh my mom is now so happy! Going up and down with pride, she loves it.
Second reason is for myself because we plan on growing old in this house. Also now, I frequently have to travel. My husband also has to fly on business trip rather  often. With a home lift, we are not worry to hurt our back as if we were carrying luggage down the stairs.
How did you hear about Cibes Lift?
I happened to know about Cibes Lift thanks to my contractor recommendations. Well, I didn't know anything, but he said "hey, this brand responds to your expectations in terms of quality, safety and design very much". Also, it is so easy to install. We just leave the place as is, no pit required, nor concrete shaft.  When the home lift was delivered, the installation was a breeze.
Why did you decide to purchase a Cibes home lift?
I chose a Cibes Lift because:
1. It is a home lift that can be installed in narrow spaces.
I didn't need to prepare anything. limited civil work required. Cibes Team managed everything for me. I left the place for a sort while only to come back to a ready to use home lift so it was smooth, I really liked it.
2. It is a beautifully designed home lift.
The back panel inside the lift matched my floor. And Cibes has a lot of patterns to choose from. I felt it was modern, small with the ability to install a mirror. It's not opaque, it's transparent, and another important feature is that I feel safe in it.
3. Reliable after-sales service and it's a subsidiary from Sweden.
That is, Cibes is not a dealer. Being a branch from Sweden, I feel more confident in case I run into a problem  and I need help. I just pick up the phone and they instantly answer.
Since starting enjoying your home lift, have you ever had any technical problems?
The other day, a large box accidentally fell down when moving into to the house. The elevator compartment resulted having a tiny gap lining with the landing. But my maid was able to reset it herself. I didn't even need to contact Cibes Lift at all. With the reset RFID Tag Management, it is a breeze to fix everything easily and conveniently, so I feel at ease.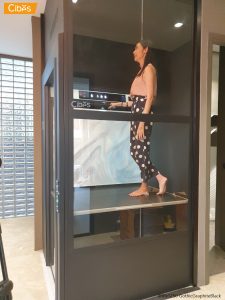 Now that you are addicted to your home lift, how has your life changed?
I tried not to turn into a lazy person, I keep on walking. But the home lift brought benefits in many ways we didn't expect. Especially when we moved in. There are large items to carry to upper floors. For example, on the 3rd floor, I have a fitness room and had to carry the equipment up. Without my home lift, I would have suffered.
As far as running costs, every time it goes up and down 3 floors, it only costs 50 satang. Think about it for fun. Let's say today you have to carry up a very heavy bag. And someone said can I do it for 50 satang? Won't you pay? Finally, our electricity bill is not different from the before.